Description:
Packed with two K-Type thermocouples, this professional thermometer can direct measure the temperature of tested object.
Also support other types of thermocouples, J/T/E/N/R-type.
Able to measure the temperature of liquid / vapors and surface temperature of a solid object, with a considerable wider measuring range.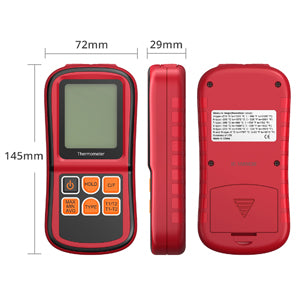 1.Match the + and - polarities of the battery with the battery case. Replace the batteries as soon as the low battery indicator appears. Or it will lead to false reading.
2.Our thermometer approves seven types (J/K/T/E/N/R) thermocouple. Use the proper thermocouples, function and range for your thermometer. Match the + and - polarities of input when plugging the thermocouple.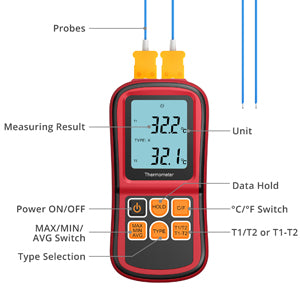 It can Measure Temperature of Two Objects Simultaneously with 2 Modes (T1/T2, T1-T2) and Maximum (MAX), Minimum (MIN) & Average Temperature.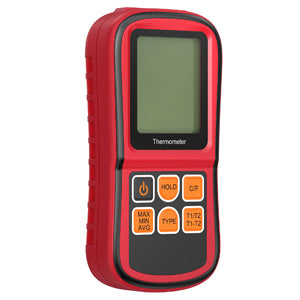 Our K-type thermocouple can measure -50℃~300℃
If you need to test objects over 300℃, please purchase the appropriate K-type thermocouple by yourself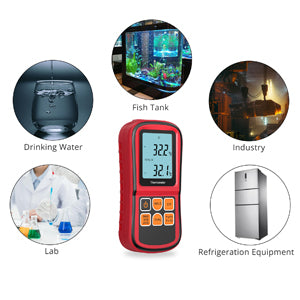 Resolution: 0.1℃/℉<1000℃; 1.0℃/℉≥1000℃ Accuracy:±0.1%+0.6℃
Input: Bi-channel input
Operating temperature: 0℃ ~ 40℃
Storage Temperature: -10℃ ~ 50℃
Storage Humidity: 20 ~ 90%
Power supply: 3*1.5V AAA Battery (included)
Auto power off without operation: approx. 1 minutes
K-type thermocouple: 2pcs included in the package (Cable length 38.78in / pcs)
K-type Thermocouple Measuring range: -50~300℃(included)
Accuracy: ±1.5%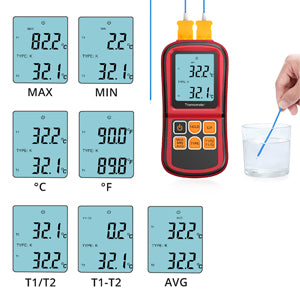 Measuring range:
J-type:-210℃to1200℃(-346℉to2192℉),
K-type:-200℃to1372℃(-328℉to2501℉),
T-type:-250℃to400℃(-418℉to752℉),
E-type:-150℃to1000℃(-238℉to1832℉),
N-type:-200℃to1300℃(-328℉to2372℉),
R-and-S type:0℃to1767℃(32℉to3212℉)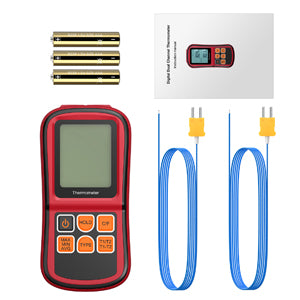 Package includes:
1 x Temperature meter
2 x K-type Thermocouple
3 x 1.5V AAA Battery
1 x English user manual